Bellame Premiere Ingredients
Products created to treat and care for the skin, and bring out the best of its inherent beauty, are only as good as the ingredients they're crafted from. At BELLAME, we take pride in the thoroughly researched, science-backed ingredients in our four-piece ACQUA LUMIERE collection, some of which are proprietary and exclusive. Here, a deep dive into what makes ACQUA LUMIERE not only wildly effective, but a pure pleasure to use.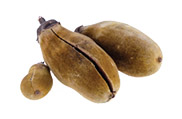 BAOBAB OIL:
Derived from the nutrient-dense fruit of "The Tree of Life" indigenous to Africa, Australia and Madagascar, Baobab Oil is rich in vitamins A, D and E and omega fatty acids. Known as an excellent moisturizer, cell-rejuvenator and wound-healer, it's also sought after for it's potent anti-oxidant and anti-inflammatory benefits. In supporting our BELLAME mission, our Baobab Oil is sourced through Fair Trade.
HIGH-POWERED HYALURONIC ACID:
Our super-charged hyaluronic acid boasts 50 times the power of that famous "moisture magnet," and five times more hydration, even after 24 hours. So if basic hyaluronic acid can pull and retain 1000 times its weight in water, just think how well our High-Powered Hyaluronic Acid can plump, volumize and moisturize skin.
MALACHITE:
A topical antioxidant with a backstory, copper-enriched crushed Malachite was used as eyeshadow by ancient Egyptians over five thousand years ago. As a skin-helper, the gorgeous green mineral and gemstone is known to block inflammation, as well as firms and repairs sun damage.
MILK PEPTIDE COMPLEX:
Because they help generate protein, a building block of healthy skin, peptides are a key weapon in any anti-aging arsenal. BELLAME's Milk Peptide Complex has a regenerative effect, delivering a significant uptick in firmness, smoothness and even skin thickness.
VITAMIN C ESTER:
As an antioxidant, vitamin C is second to none. It increases collagen production and rejuvenates aged and sun-damaged skin. BELLAME has taken the core premise (and promise!) of vitamin C and, through its ester, crafted an ingredient that penetrates skin 50 times better, and is a powerful age-spot reducer. A potent brightener, it reduces melanin synthesis by 80 percent, leaving the skin luminous and even-toned.
CIRCULATION BOOSTER:
By recharging and stimulating blood circulation in the undereye area, our proprietary Circulation Booster ensures capillaries perform optimally. That means the reduction of dark circles and a (literally) brighter outlook.
INFLACIN®:
This patented, proprietary molecule blocks the myriad bad effects of inflammation, a leading cause of aging. By short-circuiting the formation of free radicals triggered by sun, pollution and lifestyle issues like stress and poor nutrition, Inflacin® provides a natural shield against skin damage.
MARINE COLLAGEN:
As the most abundant protein in the human body, collagen gives skin its firmness and elasticity. BELLAME's state-of-the-art version, derived from seaweed and packed with vitamins, minerals, amino acids and enzymes, does double duty as an oil-regulator and impurity detoxifier.
SOLUXOMES®:
Consider this patented, proprietary ingredient delivery system our "White Glove" service in ensuring your skin gets exactly what it needs, exactly where it needs it. By encapsulating all our high-tech, highly efficacious ingredients in Soluxomes®, we're ensuring they're absorbed sub-dermally in their most pristine, high-powered state. This delivery method also means that the quantity of ingredients that passes the stratum corneum is higher, and stays in the epidermis and dermis longer. By boosting the interaction between ingredients and the skin, ingredients are absorbed better. Soluxomes®: a big idea for even the tiniest of ingredient molecules.
Learn About The Patented Technology