HYDRATING CLEANSER
nettoyant hydratant
5 oz | 150 ml $48 Retail $43.20 Beauty Passport
Wipe the day away or supercharge your morning - with this ultra-luxe, European-style cream cleanser. Nourishing to the nth degree, and laced with an intoxicating soft floral fragrance, our innovative formula melts into skin, lifting impurities while imparting a veil of dewy hydration. Powerful enough to remove makeup, but gentle enough to smooth and condition, this building block of the ACQUA LUMIERE collection will become your daily addiction.
Bonus: It doubles as a mask. For a hydrating mini-facial, tap it into your skin to "emulsify," then relax for 15 – 20 minutes. Voila – a perfectly primed canvas for the Serum, Eye Cream, and Moisturizer.
Beauty Passport Members enjoy 10% savings and FREE shipping for orders of $50+. Membership is FREE with an Auto Replenishment order or purchase the $25 annual Passport during checkout, and discounts will be applied.
MAXIMIZE IT:
Tapping into the European method of effective yet luxurious cleansing, we recommend applying 1-2 pumps directly onto dry skin and gently massaging over entire face for one minute. This allows the cleanser to truly melt into skin. Next, by whisking it away with a damp, warm, washcloth, you're boosting the soft exfoliation and skin clarity delivered by this one of a kind cleanser.
WHAT'S IN IT FOR YOU:
By pairing omega fatty acid-rich Baobab Oil with High-Powered Hyaluronic Acid, a blast of moisture 50 times more powerful than standard hyaluronic acid, expect a superior level of hydration alongside thorough cleansing.
KEY INGREDIENTS:
Baobab Oil, High-Powered Hyaluronic Acid, Inflacin®, Soluxomes®, Vitamin C Ester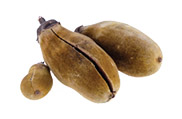 Premiere Ingredients
Products created to treat and care for the skin, and bring out the best of its
inherent beauty, are only as good as the ingredients they're crafted from. At BELLAME,
we take pride in the thoroughly researched, science-backed ingredients in our four-piece
ACQUA LUMIERE collection, some of which are proprietary and exclusive.